Interview with BICAS Metalwork Artist Colin Holmes
November 2020
This month we got to sit down with Tucson community artist Colin Holmes @rustypedal and learn more about what has inspired his art. BICAS has been so lucky to have Colin's support at our annual Art Auction year after year.
Tell us, what got you started making art?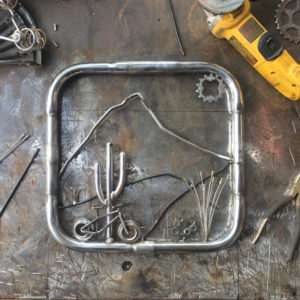 I'm a fourth generation Tucson resident. Growing up here, on O'Odham and Yaqui land, I've always been inspired by the culture of recycled art and upcycled objects.  As a kid I used to walk by a house on my way to school that had sculptures and gates and security bars made out of motorcycle parts. I remember being transfixed and excited by the uniqueness of it.  My mom was an art teacher in TUSD for decades so I grew up with the idea that creativity and art are really important to culture and community.  We used to stop and look at murals, hang out with popular local artists, and do art activities at home all the time. I remember seeing the, now removed, bicycle art on fourth avenue and thinking how amazing it was that people could take these objects that were other people's trash and turn them into beautiful, functional and exciting art. 
What brought you to BICAS? 
In 2008 my sister started riding bikes with a BICAS program at City High called El Grupo.  She had been having a hard time in school and all of a sudden she seemed stoked about life, and riding, and the community that she had found.  She built me a bike at BICAS and asked me to start riding bikes with her.  Her enthusiasm was infectious so I was stoked to oblige. 
This brought me to BICAS and I was completely hooked from the second I walked into that post apocalyptic wasteland that was the old basement space at Citizens warehouse. I couldn't believe how magical it all was.  Piles of trash being turned into machines and art and education and community.  The culture felt right to me. It felt like it was based on love and inclusivity.  It was so different from the corporate engineering work I had been doing as an intern at the U of A.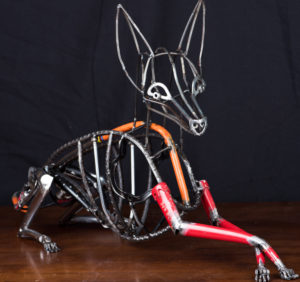 Since that fateful first trip down the ramp I really never left. Embracing the BICAS mindset was a complete paradigm shift for me. It reawakened my creative side and got me making art again.

 
I've been honored to make and donate art to the art auction every year because it is labor that has really tangible positive impacts on the community.  It makes folks happy, it raises money for really important programming, and it's just straight up cool.
Where do you get your inspiration for your sculptures?
My art hasn't just been informed by the objects I use to make it, it's also influenced by the act of riding a bicycle. I've always felt a connection between the experience of traveling by bicycle and art made out of bicycle parts.  It's this connection that leads me to make sculptures of my favorite feelings while riding a bike.  Sometimes it's that moment sitting in the desert with my bike leaned against a saguaro watching the sun set over the tucson mountains, or sometimes it's a roadrunner crossing my path on the loop, and occasionally it's that breathtaking moment that brings me to a halt as I watch a great blue heron take off from the Sweetwater Wetlands or a hummingbird whirring around the flowers at Patagonia lake while on bike tour.  
Do you have a particular piece you are most proud of?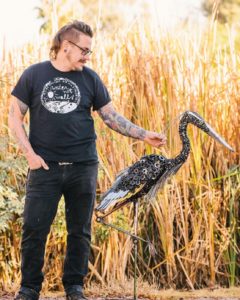 I'm most proud of the Great Blue Heron that I donated to the 2019 BICAS Art Auction.  Ever since I started welding and making bike art at BICAS I dreamed of making one of those special pieces that folks remember. Like Troy Neimans's Javalina or Zach Lihatsh's Chiuahua or Kathy Franklin's Dragon.  For me the accomplishment of completing that sculpture felt like I had reached a next level of skill.  It was a breakthrough piece and it meant the world to me that it raised so much money for BICAS and received so much recognition from the community.
Check out more of Colin's work at
rustypedal.com
Follow his social media accounts:
https://www.instagram.com/rustypedal/
https://www.facebook.com/rustypedal