Art Mart at Dark 2023: Artist Profiles
Jump to an Artist!
Artist Profile
Western Sky Communications
Martha Retallick is an award-winning photographer, writer, and designer. She earned a Bachelor of Arts degree in economics from the University of Michigan and has done additional coursework in graphic design and in building and construction technologies at Pima Community College. Martha has freelanced as a commercial photographer, web and graphic designer, and business consultant. She has also worked on the editorial staffs of three different publications. As a fine art photographer, Martha has hosted her own solo photography exhibitions and has been included in group shows at Tucson's Raices Taller 222 Art Gallery & Workshop and the Tohono Chul botanical garden. In addition, Martha volunteers as a citizen scientist through daily weather monitoring, as a host for a Tucson-based environmental organization's annual home and garden tour, and as an undergraduate admissions interviewer for the University of Arizona Eller College of Management.
Artist Profile
Lourdes Leine
Lourdes Leiner is a 22 year old poet from Tucson, Arizona. She has been writing in journals and notebooks throughout whole life, now she is a self-published poet who has written works like Stitches and Spit It Out. These works describe her experiences, they contain metaphors and extensive symbolism.
Artist Profile
Zena Carves
Zena Carves is from Tucson and her main focus is on the medium of relief printmaking. She works with themes of vulnerability because it allows her to confirm that these feelings are quite common, even if they are not often spoken about. I introduce hyperbolic or ridiculous elements with the intention to engage or amuse the viewer. Zena often uses appropriated images to create connections and familiarity.
Artist Profile
Aberrant Ceramics
I am Aaron Nosheny, a ceramic artist working in Tucson, Arizona. I am a self-taught ceramicist and have been working in my medium for 19 years. I make hand-built pottery, sculpture, hamsas, masks, and ornaments. I draw influence from the strange and wonderful denizens of the natural world and from various haunted repositories of popular culture.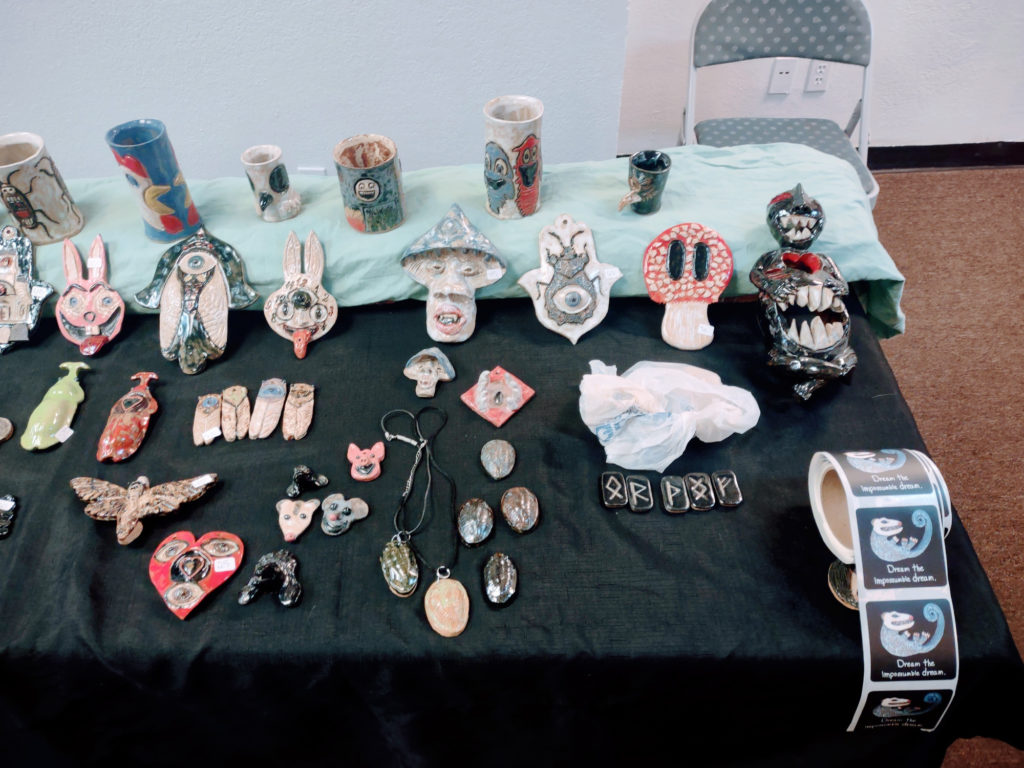 Artist Profile
Desertgothbitch.art
DesertGothBitch is a Tucson based mixed media artist curating colorful yet somber works that reflect their life in the desert. Their art consists of upcycled fashion creations such as painted clothing, jewelry made out of found objects and scrap metal, watercolor paintings, and collages. A self proclaimed "trash artist" DesertGothBitch enjoys creating art out of trash and discarded items -giving it new life.
Artist Profile
Rare Gift Curio Co
Rare Gift Curio Co is a maker of art, jewelry, oddities, and trinkets. All animal parts are responsibly sourced, following a 'use every part' approach.
Artist Profile
One Mad Menagerie
Madison's collection of jewelry, embroidery, and greeting cards celebrates the art of reuse. She has been a creator of art and jewelry for most of her life, but it wasn't until after working in bicycle collectives that she began to make jewelry with recycled bike parts. She enjoys creating most when she's turning something disposable or ordinary into something beautiful and finds inspiration in the details of tiny washers, the imagery on bottle caps and aluminum cans, and the vibrant colors of recycled paper.
Artist Profile
The Artist Liam Wallace LLC
I do drawings and painting of abstract concepts and the world around me. Referring to myself as an experimental artist allows me the freedom to experiment with different mediums and styles to create unique works of art.
Artist Profile
Lot Pot(tery)
Olivia Tuller has been doing ceramics since 2017 when she discovered it as part of the art history curriculum at Lewis and Clark College in Portland, Or. Since then, she's furthered her clay education at the Multnomah Arts Center, Pima Community College, and Romero House Potters, as well as attending NCECA in 2018. Though she has experience in both hand building and wheel throwing, her own work focuses on wheel thrown functional ware, utilizing a variety of glazing techniques such as sgraffito, mishima, and wax resist. She has taught beginning wheel as well as children's hand building, and her work is sold around Tucson. She loves the unique creative process that ceramics offers, and enjoys guiding others on their journey to find their artistic voice through clay.
Artist Profile
revolta Art
Monique Laraway (she/they) is an eco-conscious visual artist & the human behind Revolta Art. Monique draws creative inspiration from biking on & off road; dreaming of more sustainably interconnected resources; learning from the symbiotic relationships of nature; and embracing the imperfections of arting with salvaged materials.
Artist Profile
Good Enough Quilting
Handmade quilted tote bags, clothing, quilts, and accessories made from scraps, secondhand fabrics, and canvas.
Artist Profile
Jesse Cramer
my name is jesse cramer and i take photos and dabble in sewing
29 yo traditional artist and class clown
Sadie bat Kalman is an interdisciplinary painter and printmaker inspired by the history of ornamentation and DIY print techniques.
Artist Profile
SoGayCrochet
SoGayCrochet is a queer owned crochet business based in Tucson, AZ. Run by a husband duo of Ben (admin) and Derek (artist) our goal is to spread joy and support our community. Ten percent of EVERY sale is dedicated to mutual aid or community care.
Hello, I am HazyHonor and I love creating jewelry using wire wrapping and silver smithing to create unique pieces. We have a love for gemstones and really love creating pieces that we tumble and rockhound ourselves.
Artist Profile
Abington Abstracts
Glass is beautiful and dangerous and I'm unequivocally drawn to it. I am Desiree, and I create Glasscentric sculptures and wall art. I started going on long walks down the Santa Cruz river in Tucson, Arizona and began finding this breathtaking iridescent broken glass all along it's banks. Each piece gorgeous and different, just like snowflakes. I started collecting them and thought I'd use them to create some type of art, and thus my glasscentric style of art was born!
Artist Profile
Angela Murphy
Angela Murphy: Artist, Advocate, and Community Transformer. Her art embodies unity, resilience, and self-love. She co-founded Tucson Community Impact Team (TCIT), to provide support to people experiencing homelessness. Sales of her art l supports her community outreach efforts, and she invites you to join her in practicing community through art's transformative power.
Anita is currently an MFA student living and working in Tucson, Arizona. Born and raised in Brooklyn, New York, she is constantly inspired by her home city, as well as her adopted one. Anita is a writer and printmaker working in traditional print methods. Passions include music, laguages, cycling, and adventure by way of endurance.
Artist Profile
Skyler Elzy / Scrappy Cat
Skyler E is an illustrator, designer, and biker who creates pieces inspired by his journey on the trail and adventures through life. Now living in Tucson he focuses on creating both wonderful wooden and digital art that's bright and vibrant to light up your space.
Olive is a local tucson-based artist who makes all kinds of different art including drawing, painting, clothing, books, sculptures and slime. She is passionate about inspiring others and being creative. Olive has won prizes for her art in grade school and middle school.
Artist Profile
Laurie Marie Art
Art & design for divine living to add a little love, beauty, & magic into your life!
BICAS' handcrafted salvaged bicycle art will also be available for sale at our Art Mart at Dark! Alongside so many amazing artists, we hope to see you there!