Even with our traditional BICAS Annual Art Auction postponed by the pandemic, we couldn't resist a small celebration of bicycle art. We are excited to showcase a small number of bicycle-themed art pieces made by our talented staff and board members. 
Our online Staff Mini Auction will happen this December 6th-12th, 2020.  Art will be posted on the
BICAS EBAY
page with an entire week to bid on unique and beautiful art made by your favorite bicycle mechanics.
We asked this year's BICAS Collective artists the following questions:
 Why this? Why now? (Why did you choose to make the piece you made this year?)

Does your creative process have a soundtrack?

What's something you love about Tucson?
Click on the name below to jump to a specific person:
---
Adam Frumhoff, Collective Mechanic
The idea for this piece was actually stolen! I got the idea from a former BICAS member and artist named Erik Bang (

https://scrapyard.solutions/

)

. Erik often made table tops this way. The moonscape part of it just sort of happened. As I started assembling it, I thought, "this looks all outer-spacey," so I just went with it.

I tend to use the grinder a lot when I do metal art so I wear ear plugs (protect your ears!). So, the sound of this piece is the sound of silence. Just like space. Or maybe space resonates at a certain frequency. Or frequencies?

https://en.wikipedia.org/wiki/Musica_universalis

I mostly moved to Tucson because of BICAS, and the weather. And those are still my favorite things.
---
AMG, Collective Mechanic
Colorful earring: I found the bike part first, I cannot remember the name for it. It's supposed to help get the mud off your tire I believe. I put some colorful beads and these juniper berry beads on it. I love them because of the funky bike part and because the juniper berry beads are commonly used in Dineh jewelry and there is some cultural significance to them. Pearly earrings: I wanted to do something with this really pretty gold-colored bike chain and I found the lil pearlescent beads in my random stash of stuff. I thought they looked amazing with the gold color of the chain.
My soundtracks would be putting on movies I love because just hearing them play, I can see them play in my head. Lord of the Rings Trilogy and The Professional.
I've come to love the bragging rights on handling heat, only to be used in Arizona. But even more, I like that I can bike anywhere and everywhere and have built a small community here, thanks to BICAS mostly. The job has really put me out there, compared to when I first moved here.
---
Arjuna, Mechanic
I just thought it would be fun!
Just me talking to myself.
I love the typography around town! It's very old-timey and I like it.
---
Car Arteaga, Youth Programs Coordinator
This is a kinetic sculpture! Click here to see it in motion!
I've been wanting a chance to combine my mechanic-brain with my artist-brain and this project gave both a fun challenge. I also have a storyteller side, so I liked how the endless chase of the kraken and the ship makes your mind drift to the age-old leyendas and mysteries of the sea.
I wanna say my soundtrack was something cool and trendy, but in reality, it was just some of my old skool CDs – Ricky Martin (Vuelve) and Tim McGraw (Greatest Hits).
I love living in the borderlands, where Mexican culture is woven into the everyday fabric of the city and there are so many other Latinxs around. If you do a favor for someone in Tuxon, you can expect to be repaid with a burrito…need I say more?
---
Clel, Collective Mechanic
I thought this would be properly kitschy, bikey & also functional houseware.
Metalworking to metal – Paranoid, Torso, Punch, Despise You.
I love being surrounded by plants that have harsh but realistic boundaries.
---
Clyfford Ludeña, Collective Mechanic
I guess I wanted to make something simple and relevant to the area. I wasn't too picky about it to be honest.
I oddly just make a lot of corny puns in my head about whatever it is I'm working on. Hopefully I'm not the only one haha.
Have always loved the small-town vibes in Tucson. It's nice to regularly run into friends and acquaintances on walks or running errands.
---
Colin Holmes, Collective Board Member
I make desert scenes out of bicycle parts to represent my experiences on bike rides. This particular one was a ride where I encountered an owl at sunset while up in the foothills of the mountains.
My creative soundtrack changes based on my mood but lately it has been Bad Bunny and J Balvin.
That's a hard one to pin down because there's so much I love about Tucson. I love the year-round riding and the sunsets. I love how the stark lack of resources has led to incredibly resourceful and conservation-minded people who are changing the world with their cutting-edge solutions. I love the creativity and the culture and most of all I love the sincerity of Tucsonans.
Follow Colin on insta at
@rustypedal
---
Ellie Kaszniak, Youth Programs Coordinator
I like functional art because I like to decorate the things we already use or need.
Mississippi Records Cassettes Playlist
Tucson is my hometown, I love everything about it! Specifically, I love the community, the desert, and nearly every place I go is nostalgic for me.
---
Emma Muir, 2019-2021 Art Program Coordinator
I wanted to honor the adjustments BICAS has made to work with the community during the pandemic.
I watched Schitt's Creek on Netflix while I made this!
Being able to go on hikes and bike rides out in the desert whenever you want.
Follow Emma on insta at @emazarts
---
Hattie Houser, Mechanic
There are so many cute little parts on bikes and I like dangly earrings! I was also inspired by the jewelry my coworkers have made so it was fun to try it myself.
Yeah! I was listening to Al Green's Greatest Hits when I made these!
So many things! Everyone is really down-to-Earth. I also love the monsoon season.
---
Jesus, Collective Mechanic
This is a kinetic sculpture! Click here to see it in motion!
I have childhood memories of a little fair we used to go to outside of Food City on the Southside. Their carousels were always really small and cute.
Oh, there's definitely a soundtrack! Cumbia because of the beats — there's a lot of rhythm to it.
I love how it's just built of so many characters, how it's made up of every type of person.
Follow Jesus on insta at @fatjesus_
---
Jreems Kmchroo, Mechanic
I've had the idea in my head forever and it's just how 2020 felt. It was a culmination of all those thoughts and feelings.
Totally. When I'm trying to get creative I put on this band called OOIOO because they're so chaotic and have a lot of different sounds.
I feel like whenever you go to a "cool" city, there's an air of judgment, but in Tucson people tend to be pretty approachable.
Follow Jreems on insta at @jreemskmchroo
---
Kristin McRay, Education Coordinator
It started with the eyes and went from there. The materials demanded the shape that they were going to be in. It's the first time I've made a critter!
Bomba Estéreo
Sonoran dogs
Follow Kristin on insta at @kristinmcray
---
Linus, Mechanic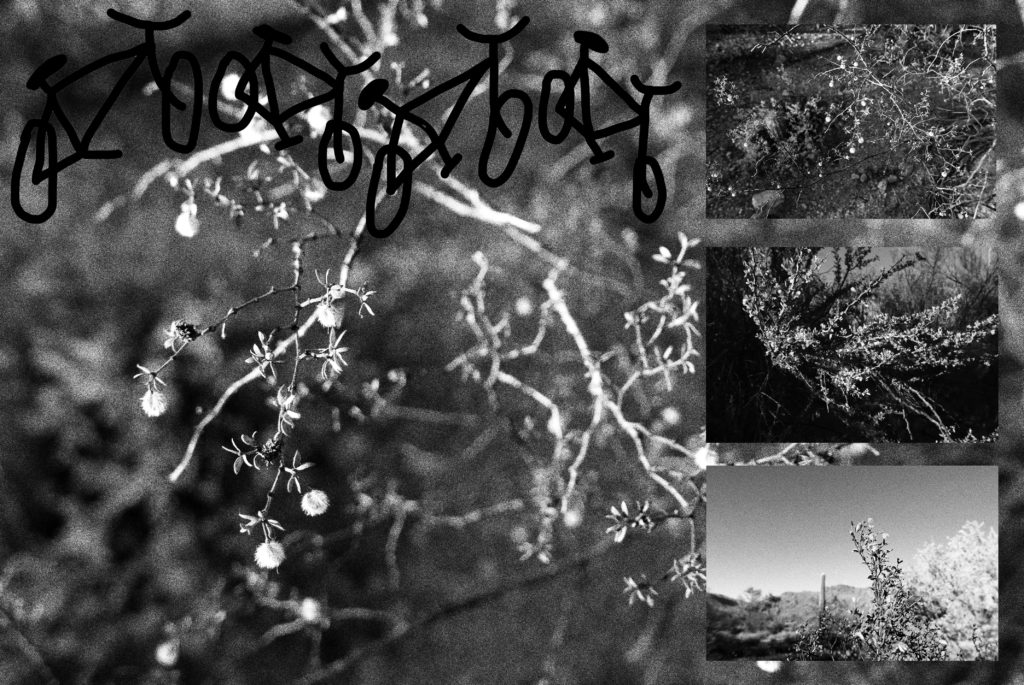 As someone who didn't grow up doing a lot of art, photography was really my intro into that, so it felt nice to stick with what I know.
So many! One is just the sounds of the desert. And the smell of creosote.
When you commute to work by bike, you can go through alleys and stuff and get a little mountain biking in on the way to work.
---
Miro Gutierrez, Volunteer Coordinator
I chose to make the friendship tassel key chains because I miss the idea of friendship bracelets from my childhood and this is an "adult" version of that.
I made a few mixes while working on these lil babies and it's linked below

The ONE thing I love about Tucson is that we are a supportive bunch, during the good times and in the bad. The connection between folks here is thick and we're not afraid to say I love you, I think you're wrong or I support and am glad that you're working on things.
Follow Miro on insta at
@muchomiro
---
Tyler McCullough, Collective Mechanic
Follow Tyler on insta at @tie_lord
Contact:
For questions, media, mural requests, metalworks commissions, information on our Annual Art Auction, 
workshop information, or parts requests, contact the BICAS Art Coordinator at
art@bicas.org
or 520.628.7950, or stop by the shop at
2001 N. 7th Ave
during our
open hours
. Find out more by following BICAS Art on
Facebook
,
Instagram
and on our
Etsy shop
!