Build-A-Bike Class $90
Ever wonder what makes a bike roll, turn, and stop? Over 5 days, learn how to properly disassemble, clean and completely rebuild a bicycle. In pairs, students take apart and rebuild a BICAS project bicycle. Learn to rebuild bearing systems, replace cables and housing for brakes and shifters, install chains and properly adjust derailleurs. Upon completion of this fun course, each student receives a $45 BICAS credit to spend on shop time to fix up their own bicycle.
Course Outline:
Introduction to BICAS
Fix a Flat, tubes andtires
Hubs
Headsets
Bottom Brackets
Basic wheel truing
Brakes
Drive-train and shifting
Test ride!
Upcoming Classes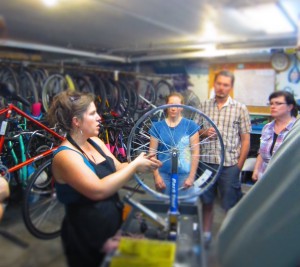 Get ready for that great Tucson riding weather! Whether you rely on your bike to get you to school and work, or just love riding the Loop trail in the cool mornings, this class will teach you how to overhaul your own bike to get it running faster and smoother.
This is a beginner – intermediate class. Recommended age for the class is 13 and up.
Click class for link to the online registration page.
Tuesday / Thursday Classes
Class Days: Tuesdays and Thursdays
Class Dates: Jan 23rd, Jan 25th, Jan 30th, Feb 1st and Feb 6th.
Class Time: 4PM to 8PM
Instructors: Ellie and Carlyn

Saturday Classes
Class Days: Saturdays
Class Dates: Jan 20th, Jan 27th, Feb 3rd, Feb 10th and Feb 17th.
Class Time: 12 noon to 4 PM
Instructors: Madison, Ashley and Kristin
(Check the BICAS online calendar for additional dates & classes)
BICAS Cancellation Policy
If you are unable to attend a class, please let us know at least 48 hours before the class is scheduled to take place and we will give you a full refund or a credit for a future class.  If you don't let us know 48 hours in advance of the class, you are not entitled to any refund or credit.
---
Join our mailing list to receive a monthly e-newsletter of upcoming events, news & classes: